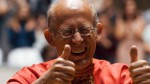 HELLO I AM DAVID! A Journey with David Helfgott
Today Premiere at Hofer Filmtage, Germany! At 16:30 at Cinema Central. Further Screenings Friday, 23.10. at 12:00 at Cinema Scala and Sunday, 25.10. at 11:00 at Classic.
More at http://hofer-filmtage.com/
Many Thanks to all who have helped make this project possible!