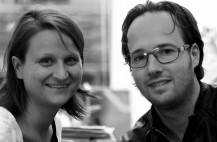 Beleza Film produces feature films and documentary projects for the national and international market. We believe in creative teamwork and our main focus lies in the close and constant collaboration with the filmmakers.
Both producers have finished the French-German Masterclass /Ludwigsburg-Paris and are among the founders of the initiative www.hamburg-lebt-kino.de (Hamburg lives Cinema).
Right from the beginning the projects have had a strong international objective. In 2010 Beleza Film realized the film workshop "One Day in the West Bank" together with 10 young film makers in Palestine in cooperation with the Goethe-Institut Ramallah, in 2011 the short film "Little Red" (nominated for the Berlin Today Award 2011) directed by Romanian Eva Pervolovici was completed.
In 2012 the Turkish-German coproduction "Küf" (in Coproduction with Motiva Film and Yeni Sinemacilar) held its premiere at the Venice Critic's Week and won the "Lion of the Future – "Luigi De Laurentis" Venice Award for the best debut film. In 2013 we finished the documentary "Make Me A Match" about matchmaking in Israel.
Current projects are the feature documentary about Australian pianist David Helfgott, and the feature documentary "I Am A B-Boy" –about breakdancing (French-German coproduction) which is in development. Beleza Film has launched the transmedia project "Tell Me Who You Are./yourbeat.org" a story platform on breaking and street dance (www.yourbeat.org).
In development are the feature film "I Dreamt of Empire" by Kasem Kharsa, which is set in Egypt, the Turkish-German coproduction "Brothers" (Prod. Turkey: Anka Film) as well as the German feature film (road movie) "SÜDLICHt" (Southern Light WT) by writer Martin Reitberger and director Stefan Hering.