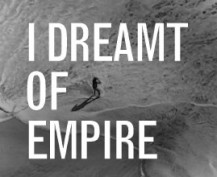 Feature Film in development
Writer/Director: Kasem Kharsa
Producer: Beleza Film

selected for Interchange/Torino Filmlab 2013
project development funded by Filmförderung Hamburg Schleswig-Holstein
Synopsis
1980, Cairo – Professor Musa devises a way to travel back in time to save his son who died in the '56 Sinai War. But when he goes back -at the right moment and place- he finds himself in the body of an Israeli soldier, Ben. The two men have switched bodies and lives. Each time the Professor goes back to roam the desert searching for his son, he returns to the present to find Ben taking over more of his life.